"When creating a customized drum, I talk with you first and then through dreams and prayer I create your special piece."
~ Zelda
Standard Drums
Each drum is made with a painted maple hoop. The rawhide is buffalo with cross bar weaving. Each drum comes with a drum stick.

$69.00 – $295.00Select options
Custom Drums
You can customize your drum by picking a color or colors for the rim, choosing the rawhide from elk, deer or buffalo for the head, and picking a custom weaving pattern on the back of the drum. Please allow up to 2 weeks for Custom made drum. (*Additional fees charged for customization)
Custom drum – $50.00* more than Standard Hand Drum
Call 518-732-7440 to order your Custom Drum.
Finger Drums
Small Finger Drum/Rattle Combination
6″ Saucer with rawhide top and bb's inside.

$18.00Add to cart
Specialty Drums and Custom Weave Drums
Custom Weaving Available by Special Order.
Call 518-732-7440 for more information.
Sea Shell Drum and Drum Stick
This is our new giant melon shell drum! The 8" – 10" sea shell known as Melo Diadema is from the Pacific Ocean and is filled with "beads," covered with deer hide and has rawhide lacing. It can be used as an "ocean sounding" rattle or a drum. Many tones may be accomplished by playing the drum by hand or with the drum stick.

$98.00Add to cart
Powwow Drums with Stand
26″ 2-sided Powwow drum, buffalo rawhide with 4 drum sticks & stand
28″ 2-sided Powwow drum, buffalo rawhide with 4 drum sticks & stand
Call to order – shipping will be figured at the time of the order.

$1,195.00 – $1,495.00Select options
Drum Racks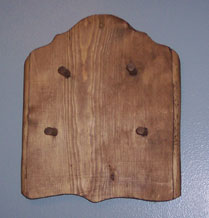 Drum is held on lower pegs and drum stick rests on top pegs, hangs on wall.

$24.00Add to cart
Drum Sticks
Standard drum stick comes with Drum purchase.
Call to inquire about colors.
Standard Drum Stick – $20.00
Drum Stick with Dew Hooves – $42.00
Drum Stick with Wrapped Handle – $30.00
$20.00 – $42.00Select options
Drum Bags
Drum Bags are made from burlap and lined with cotton cloth.
Small, fits: 10″ – 12″ – 14″ drums – $20.00
Large, fits: 16″ – 18″ – 20″ drums – $28.00
$20.00 – $28.00Select options